Success Story - Hermosa Beach Education Foundation
Case Study – Nonprofit Raises $25K In Online Donations – In Under 2 Months


Hermosa Beach Education Foundation (HBEF) (
www.hbef.org) provides financial support to the
Hermosa Beach, California public schools. The foundation's 2002 revenue was about $250,000. In April 2003, HBEF realized it faced a severe budget shortfall for the next school year, stemming from California's projected $38 billion deficit. The foundation calculated that, if the parents contributed $300 per student, they could completely make up this shortfall.
HBEF realized that $300 is quite a bit to ask in one lump sum, so they set up their website to accept recurring donations, then suggested that parents set up ten monthly donations (roughly the length of the school year) of $30 each, to be processed automatically – unless, of course, the donor wished to change or stop their donation during the 10 months. HBEF contacted the Los Angeles Times and two local newspapers, all three of which ran articles mentioning HBEF's website address. HBEF set up their website, including a recurring donation capability, using a tool called
NonprofitSite123
from
CharityFinders
.
The press coverage resulted in a significant number of donors contributing the requested amount. Some donors have even set up indefinite donations wherein they pledge a specified amount per month indefinitely until they choose to stop the donation. As a result, HBEF raised over $25,000 in online donations within two months – plus much more offline.
Additional accomplishments:
1.
In the first 1 ½ years since they built their website using NonprofitSite123, HBEF has taken in over $50,000 directly through their website. HBEF's website also spawned a significant amount of offline donations and other fundraising.
2.
$15,000 was pledged through the website and will be collected automatically, most of it within one year.
On July 9, 2004, HBEF's "Surfin' Hermosa 2004 event" was the lead photo on the front page of the Los Angeles Times. A comprehensive article appeared as well. With a few minutes of effort, HBEF was able to quickly post an announcement of the article on its home page, and link to the article.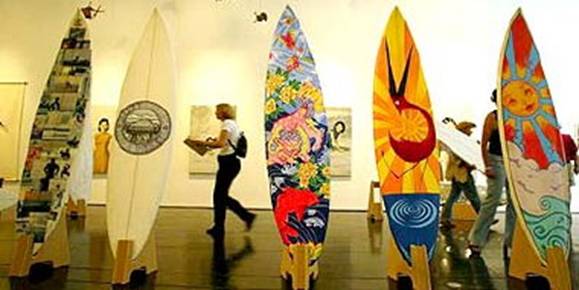 Photo by Carlos Chavez, LA Times